Thus far in 2020, COVID-19 has proven itself a stubborn adversary. Now, businesses around the globe must learn how to navigate health and safety processes in a world where coronavirus remains a threat. For many companies, this means an increase in the use of hand sanitizer, or alcohol-based hand rub (ABHR).
Because the CDC recommends using hand sanitizer that contains at least 60 percent alcohol, even a few gallons of it could create a fire risk. Most ABHRs are categorized as a Class IB or Class IC flammable, so a nearby flame or ignition source (such as a spark from static electricity) could start a fire.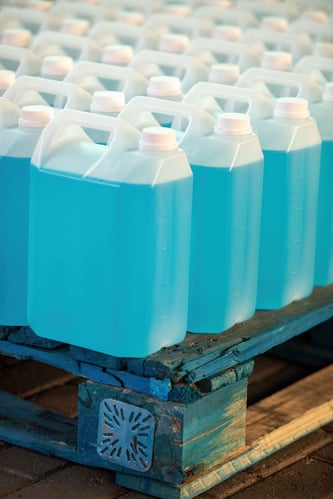 Understanding how to safely store, transport, use and dispose sanitizer is vital to worker safety. Your sanitizer's Safety Data Sheet (SDS) is a good starting point. Also, be sure to consult with the authority having jurisdiction (AHJ) standards and NFPA 30 Flammable and Combustible Liquids codes. Justrite provides solutions for keeping workers safe while complying with these requirements. In addition to meeting NFPA and OSHA standards, our products are also tested by National Recognized Testing Laboratories (NRTL)— including FM Approvals, a laboratory registered under OSHA's NRTL program— and have proven to be effective for storing flammable materials safely.
How to Store Hand Sanitizer Indoors – Storage Options for Small Containers Through 55-Gallon Drums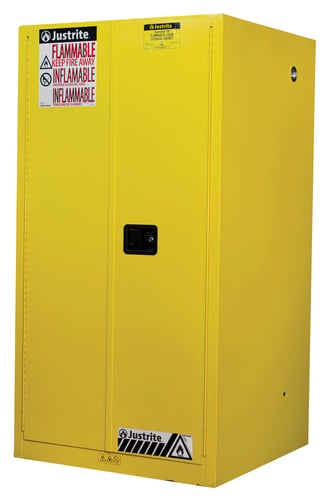 Consider using flammable safety cabinets for indoor storage of ABHRs and other flammable liquids. It provides heat resistant enclosures of the flammable liquid containers, helping to protect both personnel and property from devastating fires.
With more than 300 safety cabinet model options ranging from 4 to 110 gallons, Justrite safety cabinets provide the highest level of protection when storing flammable liquids indoors. All cabinets are constructed of double-walled, 18 gauge (1-mm) steel with 1.5-in (38-mm) of insulating air space in the bottom, top, doors and side of the cabinet. Other important construction requirements include welded or rivet joints; three-point latching on doors; raised sill of at least 2-inches above the cabinet sump; and "Flammable – Keep Fire Away" labeling.
Our Sure-Grip® EX safety cabinets are available in an assortment of sizes and styles to accommodate a variety of storage options, from cabinets with shelving to hold safety cans and point-of-use containers to cabinets with drum rollers designed for convenient storage and handling of drums.
Keep in mind factors like occupancy, building construction, sprinkler systems, etc., can affect the maximum allowable quantity (MAQ) of a flammable liquid that is permitted in a facility. Always reference your local building and fire codes and consult your local fire department or AHJ for interpretation of the code and consensus before bringing a flammable liquid into your facility.
How to Store Hand Sanitizer Outdoors – Bulk Storage Options for IBCs or Drums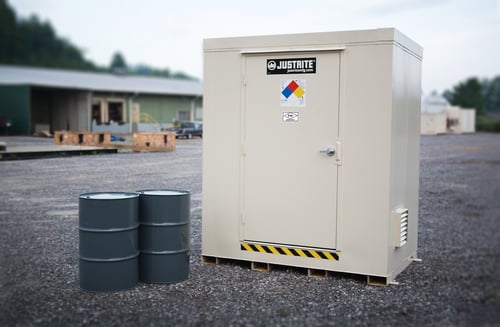 If bulk quantities of hand sanitizer need to be stored, outdoor storage lockers offer a safe and cost-efficient alternative to building or constructing a storage room. Outdoor storage lockers are designed to protect their contents in the event of a fire, but also from direct sunlight, rain, snow and other weather conditions that cause rusting or deterioration. Available in steel construction with and without explosion relief panels, these FM approved outdoor lockers also provide secondary containment that exceeds EPA requirements.
Justrite storage lockers are available in non-combustible, 2 and 4 hour fire-rated construction. Factors such as site constraints, distance between lockers, distance to property lines, etc., help determine the type of construction required. Before specifying your outdoor storage locker for hand sanitizer storage, be sure to reference your local building and fire codes. To ensure proper protection from hazardous conditions, consult your local fire department or AHJ for interpretation of the code and consensus.
Unsure Of The Best Hand Sanitizer Storage Solutions For Your Facility?
The safety experts at Justrite can help you think through the process of handling alcohol-based hand sanitizer from the time pallets are dropped off at your site to the time it's in place for individual use. Contact us for help finding the products you need to pass inspections and keep your facility safe.