The previous NetPlus Alliance logo from 2012 (left), and the re-designed NetPlus Alliance logo (right)
The business that is now NetPlus Alliance Inc. began as a machine shop on Market Street in Lockport in 1885, The William Nolan Company. In the early 1900's William's nephews Samuel F. Ward, William H. Ward and Bernard L. Ward joined the business and in 1919 it became the Ward Brothers Mill Supply Co. In 1931 the three incorporated the business and moved it to 68 Market Street. In the 40's and 50's James Judge, William Judge and Samuel F. Ward Jr. joined the company as the third generation of family leadership.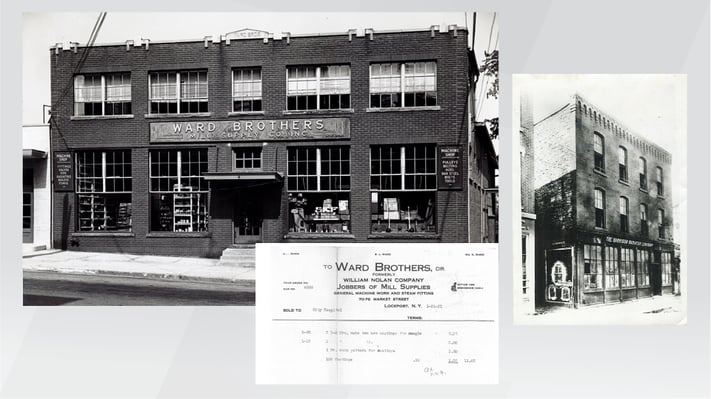 Ward Brothers Mill Supply Co., established in 1919 (left); Ward Brothers Mill Supply Co. Invoice from 1921 (center); and the original NetPlus Alliance headquarters (right)
Daniel W. Judge joined the company in 1969 and after a series of acquisitions the name was changed to Ward Beals & McCarthy. After the sale of the distribution business in 1990 the company became the management arm of a purchasing cooperative I.D. ONE. I.D. ONE was merged into another group in 2000 and two years later NetPlus Alliance was founded by Dan Judge as a buying group for industrial and contractor supplies distributors. Fifteen years later, Jennifer Judge Murphy is now the fifth generation President of the business that started on the banks of the Erie Canal as a machine shop.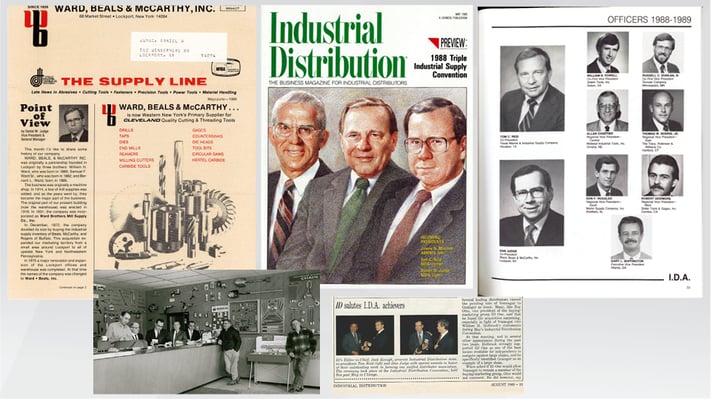 An article written by Dan Judge featured in a Ward, Beals, & McCarthy Publication (left); Inside Ward, Beals, & McCarthy (lower left); Dan Judge featured on the cover of Industrial Distribution (center); Dan Judge featured in Industrial Distribution Magazine (lower center and right)
In November 2017 NetPlus has returned to the banks of the canal in its new location at 57 Canal Street. Distribution is a $5.3 trillion* part of the U.S. economy, an often-invisible sector that nonetheless plays a critical role in keeping businesses running. The industry includes companies that sell everything from medical supplies, building materials and office products to furniture, beer and apparel to other businesses.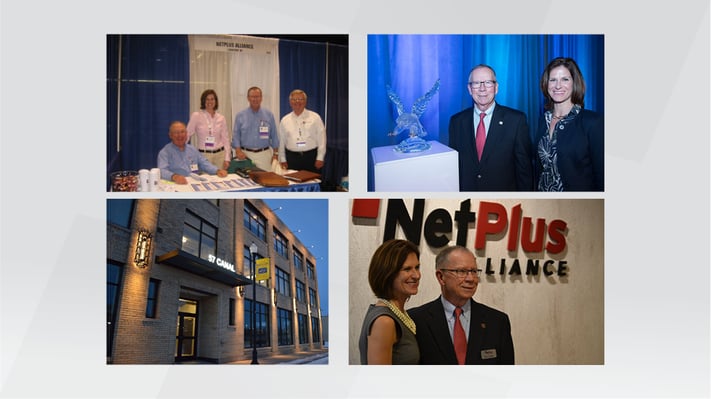 NetPlus Alliance at the 2008 ISA Chicago Convention (top left); Dan Judge wins the Lifetime Achievement Award at the 2017 ISA Convention (top right); NetPlus Alliance's newest headquarters (lower left); Dan Judge and Jennifer Murphy at the opening party of the NetPlus Alliance's newest headquarters
Industrial distributors in particular sell $392 billion* every year in tools, machine parts, safety gear, janitorial supplies and more to manufacturers, education and healthcare institutions, contractors and other businesses. Just as in other industries, the big are getting bigger, and competition from online shops is intensifying. NetPlus Alliance is a buying group that was founded to help independent industrial distributors compete and thrive in this environment. NetPlus has 384 distributor members, 166 participating product suppliers, and 18 service suppliers. Our team is 10 strong.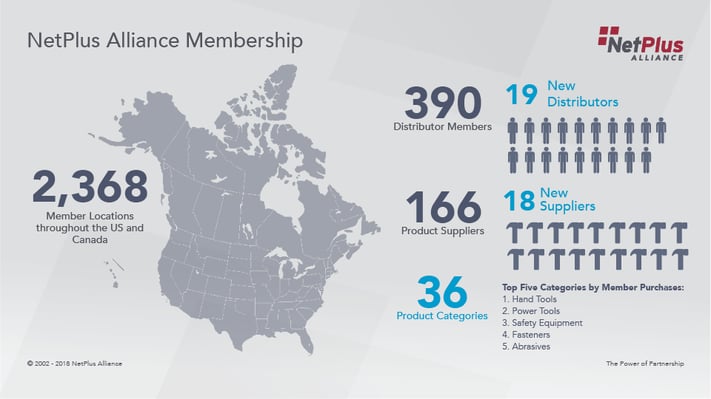 Our distributor members benefit from:
Purchasing power, as the group uses its combined scale to negotiate improved pricing, rebates and terms with its preferred product suppliers.
Access to more product categories, which allows our distributor members to offer more to their business customers.
Sales planning support through our Growth Plus program, which encourages distributors to work closely with their product suppliers to target new business and grow sales.
Ongoing product and business training for their teams.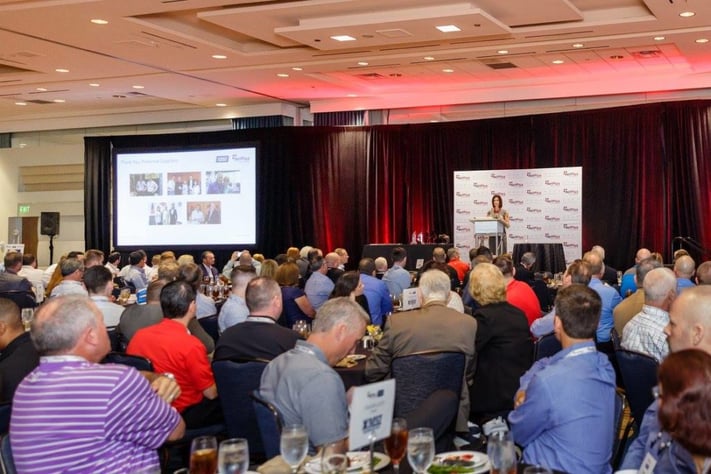 2017 NetPlus Alliance Annual Meeting President's Luncheon
Coming off of its largest Annual Meeting to date, NetPlus Alliance is pleased to open our new Lockport office, symbolic of a new era for NetPlus Alliance. We also just launched a new brand and logo that reflect the company's heritage, but with a modern look and feel. The logo's slight slant reminds us to stay focused on the future.
NetPlus Alliance is committed to meeting change head-on, and walking alongside our distributor members to #growtogether, and to form powerful industrial partnerships.