Southwire has a strong commitment to optimizing the job site experience, and our cable pulling equipment sets the industry standard. We've revolutionized these tools to make them faster, safer, and smarter than ever before. With Southwire cable pulling equipment, a contractor can see an increase in safety, efficiency, and profitability.
Innovative Cable Pullers
Maxis® XD10 Extreme Duty Cable Puller
This cable puller is designed to get the job done, thriving in the most extreme pulling conditions. The XD10 allows for a pull up to 10,000 lbs., and the vertical capstan design improves rope guide and reduces binding with most rope types and sizes.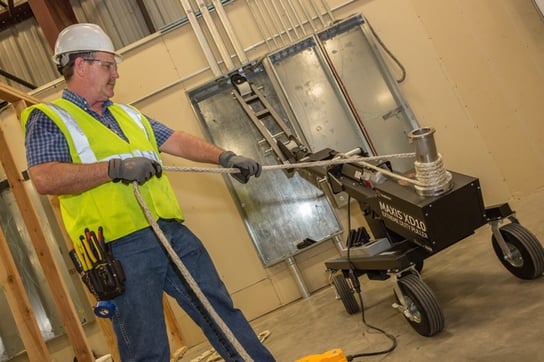 Maxis® 6K Cable Puller
This cable puller has the ability to pull up to 6,000 lbs. and can adapt to virtually any wire pull. There is no need to bolt to the ground on most pulls and can be set up by one person.
Maxis® 3K Cable Puller
A 3,000 lb. cable puller that only requires one person to set up in less than 2 minutes. This lightweight puller is able to quickly adapt from underground to overhead pulls. Southwire also offers the M3K-BAT, the complete solution for a truly cordless cable pulling experience.
Maxis® XD1 Extreme Duty Circuit Puller
The Maxis® XD1 is a lightweight, portable cable puller with 600 lbs. of constant pulling force with 1000 lbs. peak pulling force. It provides a safer, faster, and more efficient way to pull low voltage, branch circuit home runs, lighting cables, and small circuit-sized wires. This patent-pending puller can help reduce installer fatigue by eliminating the need to pull wire or rope by hand.
Cable Pulling Accessories
XDTM Extreme Duty Tension Monitor
Easily attaches to the Maxis® XD10 Cable Puller and has a 5-roller design which means one calibration covers the full range of rope sizes. The XDTM is a 10,000 lbs. rated unit for monitoring, measuring, and recording data from a wire pull. This unit provides a real-time readout of the pulling tension, distance, and speed, and actively records to the USB unit.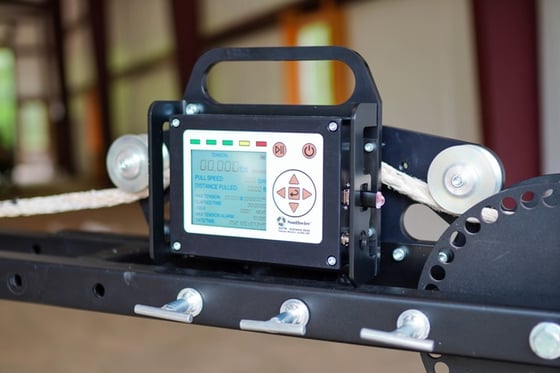 QWIKrope® Pulling Rope
Southwire's QWIKrope® is an innovative high-performance pulling rope that is UV resistant, lightweight, and ultra-low stretch for all your feeder and circuit wire pulls. The 9/16" rope has a 32,000 lbs. tensile strength and is very easy to pull into the conduit, while the 1/8" rope has a breaking strength of 1,100 lbs., and the ¼" rope has a breaking strength of 7,500 lbs.
TRIGGERS® Wireless Safety Switch System
This safety system offers your crew the highest level of safety, allowing full control over pulling and feeding applications. The TSS-01 allows members at each end of the pull, as well as the observers, the ability to stop the pull instantaneously if needed.
These are just a few examples of the equipment innovations Southwire offers. To see all of Southwire's products, visit www.southwire.com, or reach out to your Southwire representative.